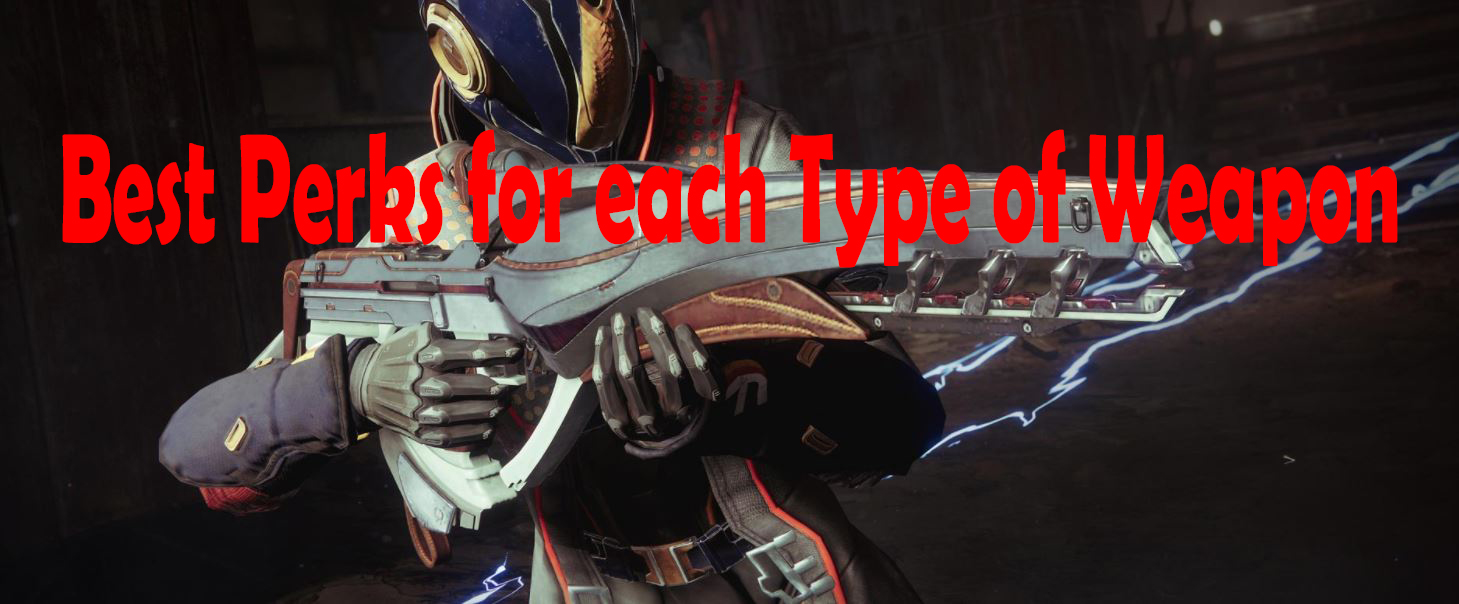 In Destiny 2, there are a lot of weapon types, and there are a lot of different perks on each weapon. These perks make each weapon unique and can be very powerful in the right combination.
But because we don't want to have the same perks on every weapon I created an overview so you can get a rough idea which perks are good on which weapon type.
It should be mentioned that not every weapon of the same type can have the same perks. Therefore I just list the good possible perks and then you can compare your received weapons with the perks mentioned here.
Barrel
Arrowhead Brake
Smallbore
Hammer-Forged Rifling
Corkscrew Rifling
Magazine
Armor-Piercing Rounds
High-Caliber Rounds
Ricochet Rounds
Light Mag
Flared Magwell
Special Perk 1
Subsistence
Demolitionist
Overflow
Feeding Frenzy
Special Perk 2
Rampage
One for All
Frenzy
Swashbuckler
(Vorpal for Barrier Champions)
Barrel
Arrowhead Brake
Smallbore
Hammer-Forged Rifling
Corkscrew Rifling
Magazine
Armor-Piercing Rounds
High-Caliber Rounds
Ricochet Rounds
Light Mag
Special Perk 1
Zen Moment
Killing Wind
Tunnel Vision
Tap the Trigger
Special Perk 2
Rangefinder
Moving Target
Eye of the Storm
Kill Clip
Rampage
Combat Bow
PvE Combat Bow Perks
Bowstring
Polymer String
Natural String
Tactile String
Fletching
Straight Fletching
Helical Fletching
Special Perk 1
Archers Tempo
Rangefinder
Killing Wind
Rampage
Special Perk 2
Explosive Head
Rampage
Vorpal
Swashbuckler
Rapid Hit
Bowstring
Polymer String
Natural String
Tactile String
Fletching
Straight Fletching
Helical Fletching
Special Perk 1
Archers Tempo
Rangefinder
Killing Wind
Impulse Amplifier
Special Perk 2
Opening Shot
Swashbuckler
Moving Target
Rapid Hit
Hand Cannon
PvE Hand Cannon Perks
Barrel
Smallbore
Hammer-Forged Rifling
Corkscrew Rifling
Magazine
Accurized Rounds
Tactical Mag
Armor-Piercing Rounds
High-Caliber Rounds
Ricochet Rounds
Light Mag
Flared Magwell
Special Perk 1
Explosive Payload
Rewind Rounds
Subsistence
Rapid Hit
Outlaw
Special Perk 2
Firefly
Rampage
One for All
Frenzy
Swashbuckler
Kill Clip
Barrel
Smallbore
Hammer-Forged Rifling
Corkscrew Rifling
Polygonal Rifling
Magazine
Accurized Rounds
Armor-Piercing Rounds
High-Caliber Rounds
Ricochet Rounds
Light Mag
Special Perk 1
Killing Wind
Opening Shot
Explosive Payload
Rapid Hit
Quickdraw
Rangefinder
Special Perk 2
Rangefinder
Explosive Payload
Timed Payload
Opening Shot
Rampage
Pulse Rifle
PvE Pulse Rifle Perks
Barrel
Arrowhead Brake
Smallbore
Hammer-Forged Rifling
Corkscrew Rifling
Magazine
Armor-Piercing Rounds
High-Caliber Rounds
Ricochet Rounds
Light Mag
Flared Magwell
Special Perk 1
Subsistence
Overflow
Rapid Hit
Rangefinder
Disruption Brake
Outlaw
Full Auto Trigger System ( if youre lazy xD )
Special Perk 2
Rampage
One for All
Frenzy
Multikill Clip
Kill Clip
Desperado
(Vorpal for Barrier Champions)
Barrel
Arrowhead Brake
Smallbore
Hammer-Forged Rifling
Corkscrew Rifling
Magazine
Armor-Piercing Rounds
High-Caliber Rounds
Ricochet Rounds
Light Mag
Special Perk 1
Zen Moment
Killing Wind
Tunnel Vision
Surplus
Rangefinder
Rapid Hit
Special Perk 2
Desperado
Rangefinder
Moving Target
Eye of the Storm
Kill Clip
Rampage
Scout Rifle
PvE Scout Rifle Perks
Barrel
Arrowhead Brake
Smallbore
Hammer-Forged Rifling
Corkscrew Rifling
Magazine
Armor-Piercing Rounds
High-Caliber Rounds
Ricochet Rounds
Light Mag
Flared Magwell
Special Perk 1
Subsistence
Rapid Hit
Reconstruction
Outlaw
Full Auto Trigger System ( if youre lazy xD )
Special Perk 2
Rampage
Explosive Payload
One for All
Frenzy
Disruption Brake
Wellspring
Kill Clip
Multikill Clip
(Vorpal for Barrier Champions)
Barrel
Arrowhead Brake
Smallbore
Hammer-Forged Rifling
Corkscrew Rifling
Magazine
Armor-Piercing Rounds
High-Caliber Rounds
Ricochet Rounds
Light Mag
Special Perk 1
Zen Moment
Killing Wind
Tunnel Vision
Surplus
Rewind Rounds
Special Perk 2
Rangefinder
Opening Shot
Moving Target
Eye of the Storm
Kill Clip
Rampage
Zen Moment
Submachine Gun
PvE Submachine Gun Perks
Barrel
Arrowhead Brake
Smallbore
Hammer-Forged Rifling
Corkscrew Rifling
Magazine
Accurized Rounds
Seraph Rounds
Armor-Piercing Rounds
High-Caliber Rounds
Ricochet Rounds
Light Mag
Flared Magwell
Special Perk 1
Subsistence
Threat Detector
Feeding Frenzy
Rangefinder
Overflow
Special Perk 2
Surrounded
Rampage
One for All
Frenzy
Demolitionist
Swashbuckler
(Vorpal for Barrier Champions)
Barrel
Arrowhead Brake
Smallbore
Hammer-Forged Rifling
Corkscrew Rifling
Magazine
Accurized Rounds
Armor-Piercing Rounds
High-Caliber Rounds
Ricochet Rounds
Light Mag
Special Perk 1
Quickdraw
Zen Moment
Killing Wind
Tunnel Vision
Tap the Trigger
Surplus
Rangefinder
Special Perk 2
Rangefinder
Moving Target
Eye of the Storm
Kill Clip
Rampage
Side Arm
PvE Side Arm Perks
Barrel
Arrowhead Brake
Smallbore
Hammer-Forged Rifling
Corkscrew Rifling
Magazine
Armor-Piercing Rounds
High-Caliber Rounds
Ricochet Rounds
Light Mag
Flared Magwell
Accurized Rounds
Special Perk 1
Subsistence
Rangefinder
Rapid Hit
Threat Detector
Demolitionist
Special Perk 2
Rampage
Frenzy
Swashbuckler
Multikill Clip
Surrounded
Disruption Break
(Vorpal for Barrier Champions)
Barrel
Arrowhead Brake
Smallbore
Hammer-Forged Rifling
Corkscrew Rifling
Magazine
Armor-Piercing Rounds
Accurized Rounds
High-Caliber Rounds
Ricochet Rounds
Light Mag
Special Perk 1
Zen Moment
Killing Wind
Tunnel Vision
Rangefinder
Moving Target
Surplus
Rapid Hit
Special Perk 2
Rangefinder
Moving Target
Opening Shot
Kill Clip
Rampage
Fusion Rifle
PvE Fusion Rifle Perks
Target Sight
Cleanshot IS
Hitmarks IS
Red Dot 2 MOA
Red Dot Micro
Magazine
Enhanced Battery
Ionized Battery
Special Perk 1
Under Pressure
Feeding Frenzy
Slideshot
Lead from Gold
Auto-Loading Holster
Special Perk 2
Vorpal
High-Impact Reserves
Swashbuckler
Reservoir Burst
Rampage
Target Sight
Cleanshot IS
Hitmarks IS
Red Dot 2 MOA
Red Dot Micro
Magazine
Particle Repeater
Projection Fuse
Special Perk 1
Under Pressure
Surplus
Firmly Planted
Hip-Fire Grip
Special Perk 2
Rangefinder
Tap the Trigger
Backup Plan
Grenade Luncher (Special)
PvE Grenade Luncher (Special) Perks
Launch
Quick Launch
Hard Launch
(Doesnt realy matter)
Grenades
Blinding Grenades
Spike Grenades
Proximity Grenades
Special Perk 1
Ambitious Assassin
Slideshot
Demolitionist
Auto-Loading Holster
Special Perk 2
Vorpal
Demoliionist
Danger Zone
Disruption Brake
Auto-Loading Holster
Rampage
PvP Grenade Luncher (Special) Perks
Launch
Quick Launch
Hard Launch
(Doesnt realy matter)
Grenades
Spike Grenades
Proximity Grenades
Special Perk 1
Slideshot
Quickdraw
Auto-Loading Holster
Field Prep
Special Perk 2
Disruption Brake
Demolitionist
Quickdraw
Vorpal
Barrel
Smallbore
Hammer-Forged Rifling
Full Bore
Corkscrew Rifling
Magazine
Assault Mag (if Slugshotgun this is MUST-HAVE)
Accurized Rounds
Light Mag
Tactical Mag
Appended Mag
Special Perk 1
Auto-Loading Holster / Reconstruction (if Slugshotgun this is MUST-HAVE)
Rewind Rounds
Quickdraw
Field Prep
Special Perk 2
Vorpal
Recombination
One-Two Punch
Trench Barrel
Demolitionist
Barrel
Smallbore
Hammer-Forged Rifling
Full Bore
Corkscrew Rifling
Magazine
Accurized Rounds
Light Mag
Special Perk 1
Opening Shot
Killing Wind
Vorpal
Iron Reach
Sniper Rifle
PvE Sniper Rifle Perks
Barrel
Arrowhead Brake
Chambered Compensator
Corkscrew Rifling
Fluted Barrel
Polygonal Rifling
Smallbore
Magazine
Appended Mag
Tactical Mag
Extended Mag
Special Perk 1
Fourth Times the Charm
Triple Tap
Clown Cartridge
Reconstruction
Rewind Rounds
Special Perk 2
Vorpal
High-Impact Reserves
Firing Line
Barrel
Arrowhead Brake
Corkscrew Rifling
Fluted Barrel
Polygonal Rifling
Smallbore
Magazine
Appended Mag
Tactical Mag
Flared Magwell
Special Perk 1
No Distractions
Moving Target
Snapshot
Quickdraw
Special Perk 2
Opening Shot
Moving Target
Snapshot
Quickdraw
Vorpal
Grenade Launcher (Heavy)
PvE Grenade Launcher (Heavy) Perks
Launch
Confined Launch
Hard Launch
Volatile Launch
Special Perk 1
Field Prep
Clown Cartridge
Auto-Loading Holster
Special Perk 2
Vorpal
Full Court
Chain Reaction
PvP Grenade Launcher (Heavy) Perks
Launch
Confined Launch
Hard Launch
Volatile Launch
Magazin
High-Explosive Ordnance
Proximity Grenades
Special Perk
Impulse Amplifier
Quickdraw
Moving Target
Special Perk 2
Chain Reaction
Wellspring
Demolitionist
Vorpal
Unrelenting
Linear Fusion Rifle
PvE Linear Fusion Rifle Perks
Barrel
Arrowhead Brake
Smallbore
Hammer-Forged Rifling
Corkscrew Rifling
Magazine
Enhanced Battery
Ionized Battery
Special Perk 1
Triple Tap
Clown Cartridge
Field Prep
Auto-Loading Holster
PvP Linear Fusion Rifle Perks
Barrel
Arrowhead Brake
Smallbore
Hammer-Forged Rifling
Corkscrew Rifling
Magazine
Accelerated Coils
Projection Fuse
Special Perk 1
Quickdraw
Killing Wind
Moving Target
Machine Gun
PvE Machine Gun Perks
Barrel
Arrowhead Brake
Smallbore
Hammer-Forged Rifling
Corkscrew Rifling
Magazine
Armor-Piercing Rounds
High-Caliber Rounds
Ricochet Rounds
Extended Mag
Appended Mag
Tactical Mag
Special Perk 1
Subsistence
Rewind Rounds
Demolitionist
Auto-Loading Holster
Field Prep
Reconstruction
Special Perk 2
Unrelenting
Rampage
Dragonfly
Vorpal
One for All
Firefly
Barrel
Arrowhead Brake
Smallbore
Hammer-Forged Rifling
Corkscrew Rifling
Magazine
Armor-Piercing Rounds
High-Caliber Rounds
Ricochet Rounds
Light Mag
Special Perk 1
Surplus
Rangefinder
Killing Wind
Zen Moment
Special Perk 2
Rampage
Zen Moment
Tap the Trigger
Vorpal
Opening Shot
Rocket Launcher
PvE Rocket Launcher Perks
Barrel
Linear Compensator
Volatile Launch
Magazine
Impact Casing
High-Velocity Rounds
Special Perk 1
Auto-Loading Holster
Tracking Module
Overflow
Special Perk 2
Vorpal
Lasting Impression
Cluster Bomb
PvP Rocket Launcher Perks
Magazine
Black Powder
High-Velocity Rounds
Special Perk 1
Tracking Module
Impulse Amplifier
Quickdraw
Special Perk 2
Cluster Bomb
Vorpal
Quickdraw
Special Perk 2
Whirlwindblade
Surrounded
Vorpal
Magazine
Balanced Guard
Burst Guard
Swordmasters Guard