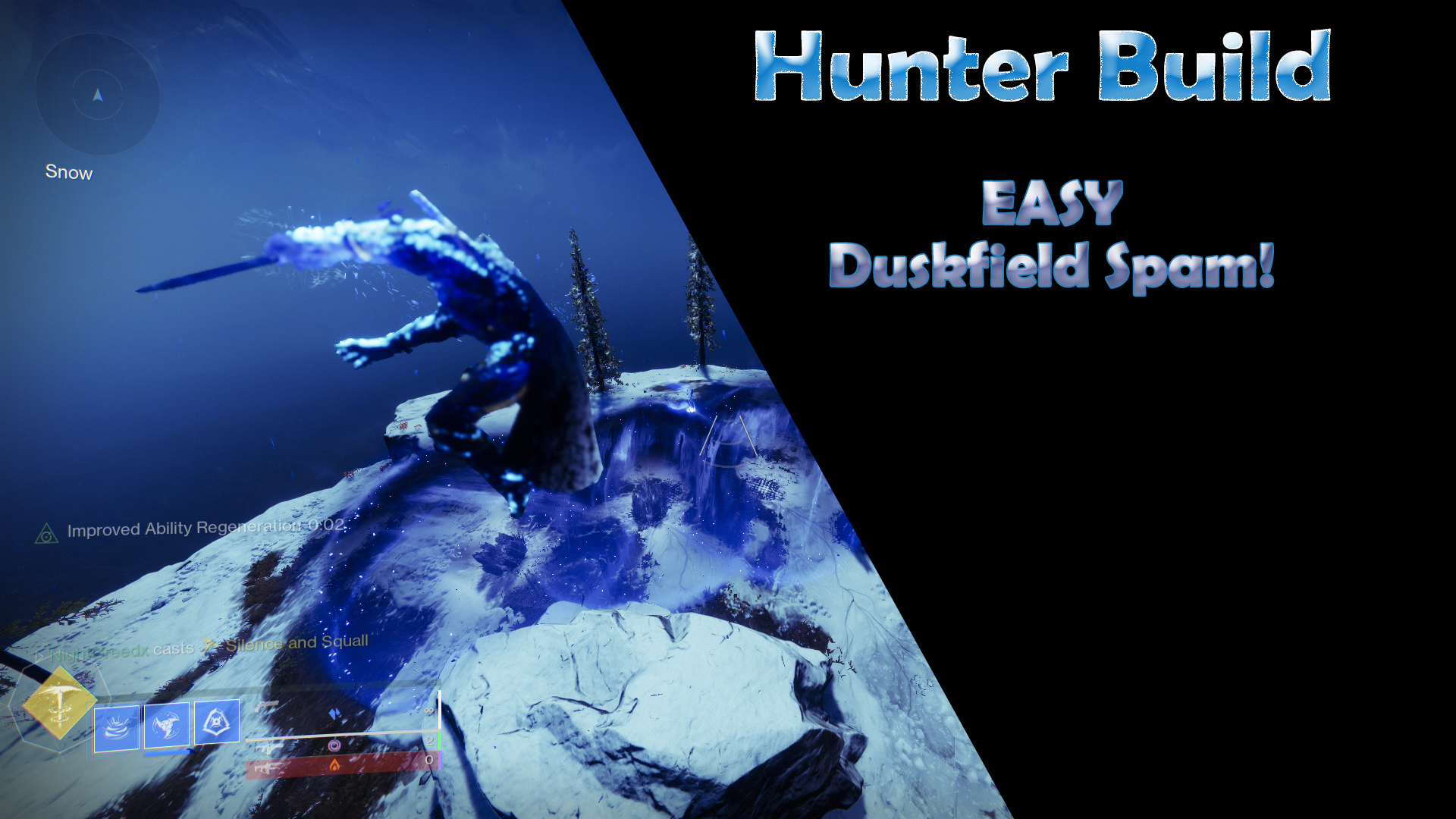 Build Setup – Stasis Spam Hunter Build D2
Welcome to the Stasis Spam Hunter Build for Destiny 2. Hunters are again useful in PVE by freezing everything they control the masses. The goal of this build is to be able to use as many skills as possible.
Below you will find a overview. These are all important parts of the Stasis Spam Hunter Build for Destiny 2.
All these aspects make the Stasis Spam Hunter Build for Destiny 2 build such good, a more detailed layout can be founded below in each build sections.
Very good ability cooldown
Works for Raids, Strikes and Dungeons
Nice synergie with exotic armor
Very good uptime of

freeze
Skill Tree – Hunter Build D2
To achieve this excellent Ability cooldown time it is important to choose the right Abilities, Aspects and Fragments.
With the Class Ability you should take Gamblers Dodge.
With the Jump you take the one that fits best for you. I always take Triple Jump.
The way to go for this build are the Duskfield grenades. They have the lowest cooldown since the cooldown patch. And make this build awesome because they cover a good area you have super crowd control
The Aspects are very important now. First we take Touch of Winter which increase the size of the slow-field from the Duskfield grenade and add a small Stasis Crystal in the middle.
Second, we'll take Grim Harvest. With this we create Stasis Shards every time we defeat frozen or slowed enemies.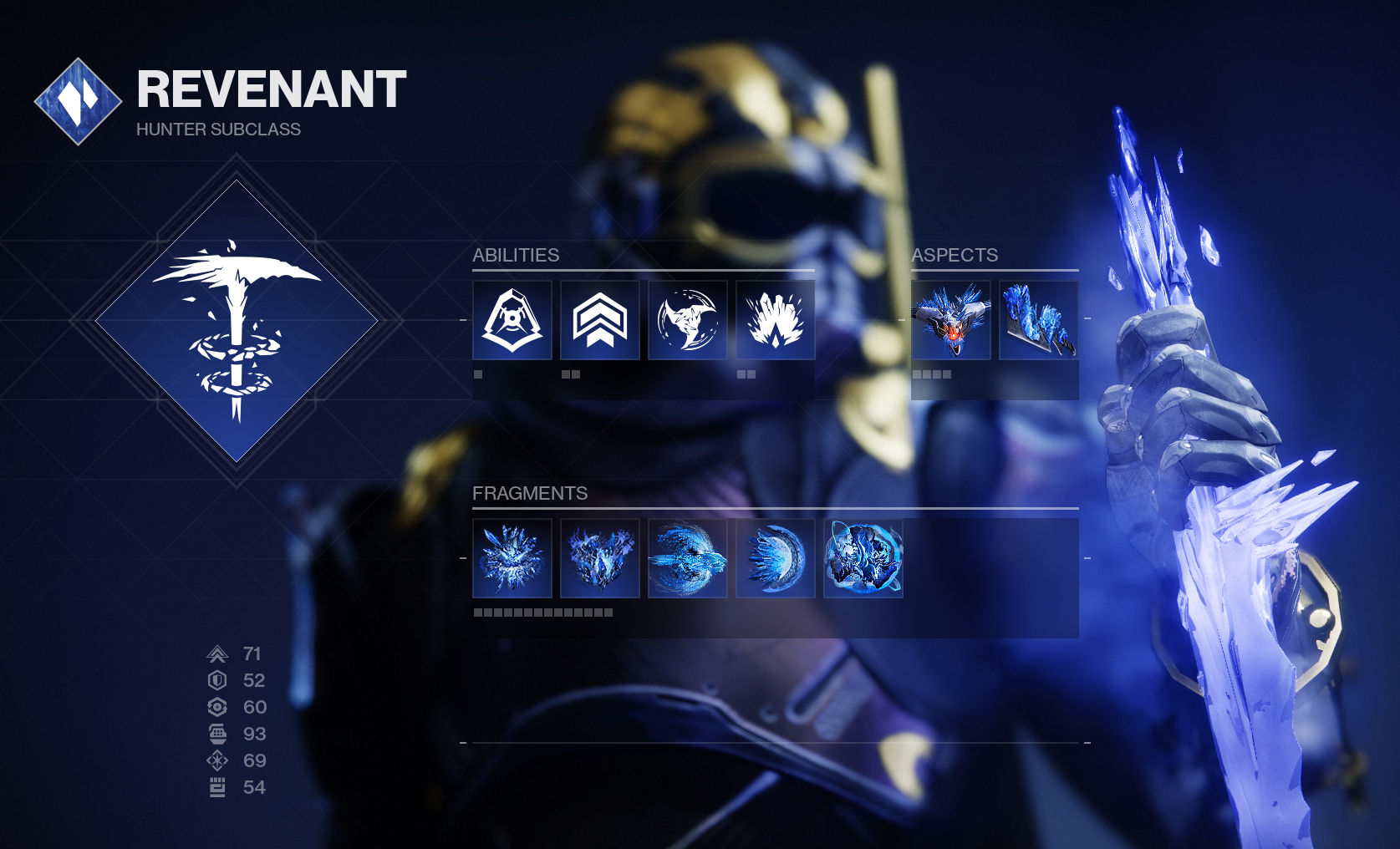 Now it gets interesting with the fragments.
Second, we use WHISPER OF DURANCE because this fragment increases the duration of our Duskfield Grenade.
So that the enemies are not just frozen for a short time and then continue to run, we use WHISPER OF FISSURES as the next fragment. This ensures that when you kill a frozen enemy, all the enemies in the vicinity also shatter.
With Whisper of Shards, we really get our stasis build rolling. It boosts our grenade charge when we destroy a stasis crystal.
With the Whisper of Conduction Fragment, Stasis shards move towards you and give you +10 resilience and +10 intellect.
Whisper of Rime provides the necessary survivability by over-shielding you a bit every time you pick up a stasis shard.
Synergies with exotic armour – Hunter Build D2
With the Fr0st-EE5 you get increased grenade, melee and class ability recharge rate while sprinting. This fits perfectly into our skill focused Stasis Build for the Hunter in Destiny 2. Besides that, Dodging also increases sprint speed which is a great side effect.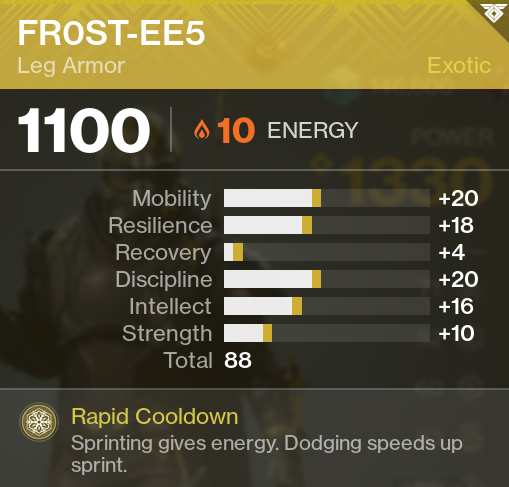 Mods and Stats – Hunter Build D2
For our Stasis Spam Hunter Build I recommend going for max mobility, discipline and recovery. In the best case 100 mobility 100 recovery and discipline as high as possible.
With Tier 7 Resilience, many annoying snipers in Grandmaster Nightfalls no longer kill you One Hit even without having Sniper Resilience equipped on the chest. This allows me to play an element of Resilience adjusted to the activity and which enemies are in there..
For this grenade focused build, intellect is less important which is why I would go for discipline here.
To get the maximum out of this build and at the same time play the best of the season I recommend the following mods:
Must-Have:
Protective Light (Void)
Bountiful Wells
Elemental Charge
Well of Ordnance
Explosive Wellmaker
Solar/Arc/Void Resistence (If youre not on Tier 7 Resillience use Sniper Resistence)  (Chest)
Fill Up with:
Mobility / Recovery / Resilience Mods to get as near to 100 / 100 / 70 as possible. (I do not recommend using Intellect Mods since they need 5 Energy)
Resonance Siphon
Grenade Kickstart
Recuperation (Legs)
Playstyle – Stasis Spam Hunter Build
To get the best possible ability recharge rate, first throw your Duskfield grenade and then shoot directly at the small stasis crystal in the middle of the slow field. Destroying the crystal activates the Whisper of Shards buff which gives us a greatly increased ability recharge rate. If you sprint now and add the buff of Fr0st-Ee5, you have another grenade ready within a few seconds. Alternatively, you can headshot a smaller enemy with a weapon with the perk Headstone to spawn a stasis crystal.
In addition, the perfect synergy with the Elemental Well mods. When we destroy the stasis crystal we do good area damage through Whisper of Fissures. This area damage counts as explosion damage and activates Explosive Wellmaker which spawns solar wells. With Bountiful Wells we strengthen this effect and let two solar wells appear. We then pick them up and get grenades energy through Well of Ordnance and through elemental charge we get charge with light which we need for Protective Light. (Protective Light gives us 50% damage reduction when our shield is broken).
It all sounds very complicated. But the best thing to do is to equip all mods and run a normal lost sector and then you will quickly notice how everything plays together.
Recommended Weapons – Hunter Stasis Build D2
For our Hunter Build for best possible Ability Spam is especially a Weapon with Headstone important the rest can actually be customized as desired.



Here is a short list of weapons that can have Headstone and where to find them.
Eyasluna          – Grasp of Avarice Dungeon
Vulpeca            – Season of the Lost Engramm
Peacebond       – Iron Banner
Reeds Regret  – Trials of Osiris
DIM Link – Destiny 2
For all those who use Destiny Item Manager I have put together the Build here in the link.
You can remove the unimportant mods on the left side and add your favorites.